By Liz Su, CFA and Kevin Hart, CIMA of Boston Common Asset Management
Responsible investors have long believed that investing with embedded consideration of environmental, social, and governance (ESG) factors is a compelling approach to identify investment opportunities: well-run, thoughtfully managed companies built for the long term, ready to foster societal transition and dynamically adapt to our rapidly changing world. This belief is simple enough to justify: identification, application, and integration of ESG risks and opportunities can provide investors with additional, independently derived insight into a company's management quality, strategic positioning, operational efficiency, and potential risk exposure.
The broader investment community has caught on. In 2020, ESG funds saw greater inflows than in any year prior, a nearly 140% increase over 2019 and nearly ten times greater than in 2018. Corporations have responded to this shift, with a record number of companies appointing their first Chief Sustainability Officer (CSO) in 2020, a year that saw more CSOs recruited than in the previous three years combined.
SUSTAINABLE FUND ANNUAL FLOWS AND ASSETS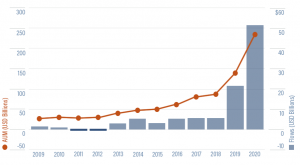 The transformative potential in the hands of ESG investors has grown by orders of magnitude. This exponential growth has brought an increasingly crowded field with a variety of approaches to ESG, creating ambiguity in the marketplace over what it means to be intentional as an impact investor. An authentic, intentional, and holistic approach relies on aligning active ownership strategies (e.g., shareholder resolutions, public policy participation, voting proxies) with stated investment goals, an ESG-led research process, and impact-oriented themes and targets.
Dispelling a Persistent Myth
There has been a widespread misconception among investors that ESG factors are non-financial. This is not entirely accurate. ESG factors can instead represent unpriced externalities and unmanaged risks that are overlooked with traditional financial metrics. By incorporating ESG factors into security analysis, investors can identify a host of material issues core to business fundamentals, enhancing the ability to recognize patterns that are not already priced in.
In addition to risk-mitigation, businesses that proactively accelerate the adoption of positive ESG practices and the development of solutions-oriented products have a unique opportunity to exceed revenue expectations and thus be rewarded with higher ratings over time. These companies may see an improving competitive position versus peers, while those that are on the wrong side of this transition may see changes in their cost of capital and an accompanying deterioration in their competitive position. Investing in the transition to a more just, sustainable world gives investors access to solutions-fixed revenue streams while altering the trajectory on climate action and racial equity among a host of other vital issues.
Identifying strong business fundamentals and ESG process leadership — underpinned by the belief that businesses with forward-thinking managements are higher quality — combined with insights gained from global, proactive, and sustained shareowner engagement can together form a positive feedback loop for better investment decision-making. Managers with the knowledge and experience to employ this holistic approach understand the need to incorporate the product dimension into impact and support companies whose products and services are solutions for societal, environmental, and human rights problems.