By Steven Bell, Chief Economist at BMO Global Asset Management
As the year draws to a close, the fourth wave of Covid-19 is underway with the Omicron variant grabbing the headlines. There have been many more reported Covid cases this year than last, but the impact on GDP has declined almost to insignificance: currently just 2% according to estimates by Goldman Sachs, compared with 20% in the worst days of last year.
Where restrictions have been tightened, as in Europe recently, they have been less severe than in 2020 and the economic impact has diminished as the world has learned to live with the pandemic.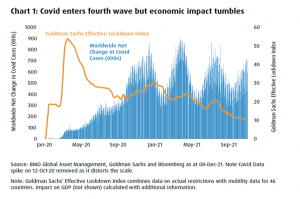 The impact on overall GDP may be small but Covid has re-shaped other aspects of the world economy, both directly and indirectly via the massive fiscal and monetary response. Transport links have been stretched to and beyond breaking point. Inflation in the developed world has risen to levels not seen for decades. And although the recovery in employment has been remarkable, overall labour supply and immigration have been reduced in most countries.
Long after Covid has receded as a macro issue, climate change will remain a massive influence on financial markets and life in general. November saw Glasgow host the COP26 climate summit. Before the summit, the world was on track for 2.7°C of warming, after Glasgow this has been reduced to around 2.4°C. Countries agreed to revisit their climate targets at the 2022 COP in Egypt, rather than in 2025, but the 1.5°C target remains some way off.
While the summit did not live up to the hopes of all, some important steps were made. Key emerging market countries made more ambitious commitments, including India and Nigeria. COP26 also delivered compelling signals to global markets on the phase out of internal combustion engine vehicles and fossil fuels. Another big development was the agreement of a rulebook to govern international carbon markets, which should promote increased confidence, trust and activity in these markets moving forward. A final takeaway from COP26 was the increasing role that the private sector is playing in driving heightened ambition. This was embodied by the Glasgow Financial Alliance for Net Zero, which committed $130 trillion to Net Zero, and included BMO Global Asset Management (EMEA) and Colombia Threadneedle Investments amongst its members.