Featured as part of our coverage today in celebration of International Women's Day, Bibiana Carretero is portfolio manager of the New Capital Europe Future Leaders Fund and the New Capital Dynamic European Equity Fund. In this article, she details three critical challenges the Eurozone faces following the pandemic.
---
Across the eurozone, there has been a diverse experience with Covid-19, but lockdown measures were tightened across all member states in late 2020. Looking ahead, there are three challenges: on debt, inflation and demographics.
Diverse experience
Across the eurozone, lockdown restrictions have been tightened since summer 2020; in early 2021 they were as tight as they had ever been in Germany, Greece, Lithuania and Luxembourg. Since the outbreak of the pandemic, four economies have death rates higher than 1000 per one million of the population, (Spain, Italy, Slovenia and Belgium) which are amongst the very highest rates in the world; but in Finland, Estonia and Cyprus, the rate is less than a tenth of that. Vaccine rollouts remain a source of optimism and we expect activity to rebound later in 2021. But as that happens, three longer-term challenges for the eurozone will become more evident.
1. Government debt levels
Government debt levels have surged. Notably, in the former crisis countries (see below chart) debt levels exceed those in 2009/12. However, for now at least, financial markets are taking a relaxed attitude to this, with very low financing costs across all eurozone economies.
2. Low inflation
The headline eurozone inflation rate is negative (see Figure 18). Partly, this represents errors in measurement: changing patterns of consumer spending and difficulties with price collection are estimated to have reduced the inflation rate by 0.2 percentage points sinc
e summer 2020. Even correcting for that, the eurozone is experiencing very low inflation or deflation. Concerns that the eurozone, like Japan, may become embroiled in a long fight against deflation have resurfaced.
3. Demographics
Such a concern is exacerbated by eurozone demographic trends. Looking ahead ten years, the trajectory for the population of working age is close to that seen in Japan since its workforce peaked in the mid-1990s (see below graph). That is despite a further projected migration from several central and eastern European countries to northern Europe.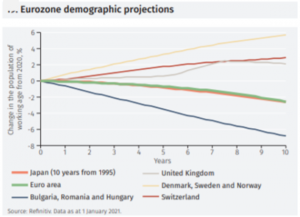 Bibiana Carretero is portfolio manager of the New Capital Europe Future Leaders Fund and the New Capital Dynamic European Equity Fund