Written by Rahul Bhushan, co-founder of Rize ETF
From the way we shop to the way we bank, from ordering a taxi to ordering a pizza–the digital revolution has changed how we do almost everything.
But because we tend to focus mainly on how our own lives have been influenced, it's often easy to forget that the online economy is thriving worldwide. And that very much includes emerging markets.
Digitisation has unleashed innovation at such a scale across developing nations that homegrown entrepreneurs have been able to build some of the world's largest companies. Meanwhile, by adapting established business models, in areas like the internet and ecommerce, to local preferences, these names have acted as springboards for further innovation.
Naturally, first movers who seized these opportunities in their nascent stages have made large returns on their investment. But the reality is, favourable demographics and increasing wealth means far more upside remains across the trend of emerging market digitisation.
In fact, in most of these regions, things are only just getting started.
Scale, wealth, and demographics…
The opportunity on offer here boils down to several core points.
First, and perhaps most obviously, emerging markets are vast. The 19 nations covered by the yellow circle on the global map below represent more than half of the world's population alone. Not only that, but it also hosts 22 of the worlds' 37 megacities as well as many nations identified by the World Economic Forum as leading emerging markets of the future.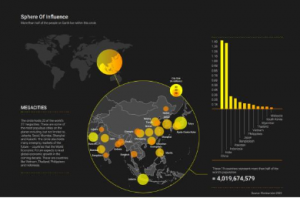 Emerging markets are getting richer as well as getting bigger.
In fact, whereas middle class consumers lived almost exclusively in Western countries 50 years ago, they are now found almost everywhere. And thanks to the "wealth effect"–where one spends more as one's income increases–some 4.8 billion individuals are expected to fall into the "consumer class" by 2030.
With this, we reach our third and perhaps most critical point–demographics.
Indeed, Western nations may traditionally be the wealthiest, but they are also the oldest–with the average age sitting as high as 53 in Japan and 47 in Germany. Developing nations, meanwhile, are comparatively young, with the average age of a citizen in India, for example, sitting at just 28.
Why is this important?
Well, it means that the rapidly growing number of increasingly wealthy middle-class consumers in emerging markets are likely to be younger. And this means that they are much more likely to be au fait with technology than their average Western counterpart.
As a result, they are likely to spend their growing disposable income on things like media, gaming, entertainment, food delivery & taxi apps, online travel or any number of other digital services.
This growing middle class will drive unprecedented technological adoption. And this, we believe, is forming the foundation of a long-term, secular megatrend across emerging markets.
The underlying themes
At the core of this megatrend lies in two converging but mutually reinforcing themes.
The first of these is the internet, which essentially acts as an incubator for innovation. But the second–and the one we will focus on here–is ecommerce, which acts as a catalyst for large-scale behavioural change.
We have seen companies like Apple, Amazon, Shopify, eBay, and PayPal establish themselves as digital giants across developed markets. And they've been able to do so by entering new markets and expanding their presence across the wider digital economy through penetration of areas like food delivery, ads, payments, gaming and streaming.
The same is starting to happen in emerging economies.
Equivalent digital giants exist, but their penetration of online markets remains shallower than most of their Western peers, especially when you consider Southeast Asia and Latin America.
The convenience of using a variety of digital products from a favoured platform or brand is likely to become a valuable attribute, therefore, for emerging market consumers, in the same way it has for developed market consumers.
Cross-country data collected during the pandemic suggests that the latent demand for ecommerce in emerging markets has the potential to be vast.
The opportunity ahead
One only has to consider global smartphone penetration rates to get an idea of the scale of how big this opportunity could be.
The image below shows that, thanks to China's vast, increasingly wealthy population, it is able to boast far more smartphone users than the US despite having a far lower rate of penetration.
It's no wonder Alibaba has become one of the world's biggest companies, sparking ecommerce trends for years.
Plenty of upside remains in China, of course, as it's decades long shift away from a commodity-led economy towards a services-led economy continues.
But the reality is the real opportunity exists across the wide variety of less mature emerging economies where tech indicators such as smartphone penetration rates are only now starting to rise.
It's across these leading growth economies of the future, from India, Vietnam and Indonesia to Brazil, Mexico and South Africa, where disruptive forces are just getting started, that huge swathes of pent-up digital demand is waiting to get unleashed.
Numerous studies show that digitisation of economies is essential to achieving stable economic growth over time. Given the population growth, favourable demographics and increasing wealth in emerging markets, alongside strong fundamentals and attractive valuations, we see a very strong outlook for emerging market digitisation for many decades to come.