Prediction of a global recession and the Federal Reserve (Fed) interest-rate induced spending squeeze saw tech stocks experiencing a tipsy-topsy journey during most part of H1 2023.
At the back of Fed going slowly on interest rate hikes and sustained strong demand for semiconductors, the global top 25 technology companies* managed to gain more than $2 trillion in valuation during a challenging Q2 2023, and overall, a whopping $4.5 trillion in H1 2023, reveals GlobalData, a leading data and analytics company.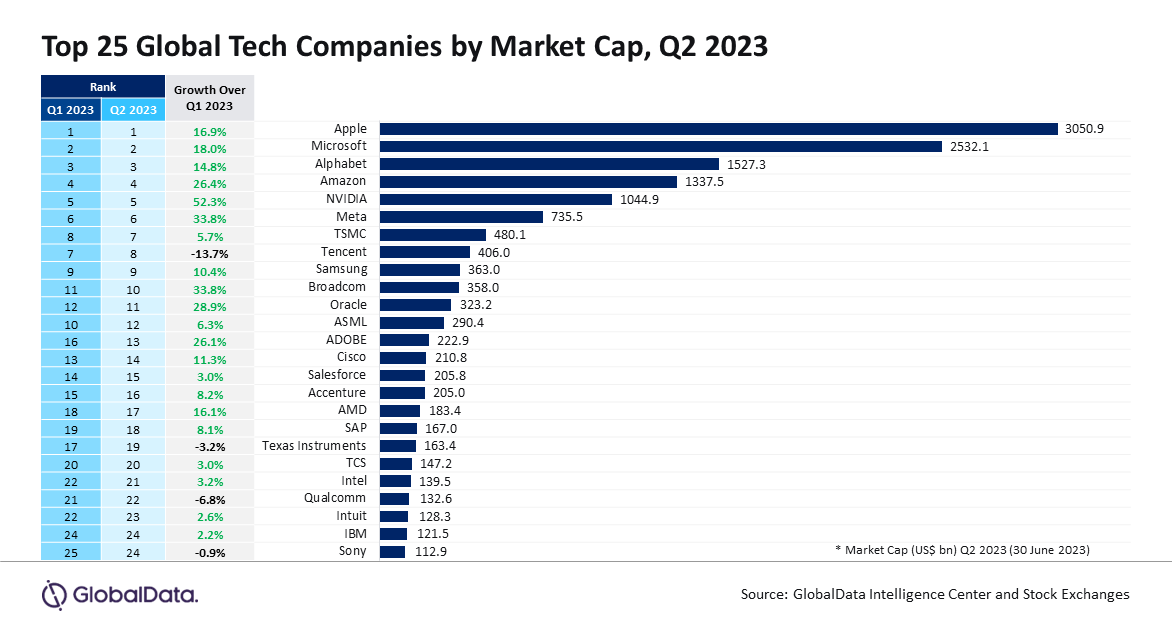 Gracio Benher, Business Fundamentals Analyst at GlobalData, comments: "Nvidia continued to spearhead the surge. The company, which witnessed over 90% increase in market value in Q1 2023, had another impressive quarter, recording a 52% increase in market value in Q2 2023. The Santa Clara-based company has been riding on the wave of positive outlook for generative artificial intelligence (AI) tools. Broadcom shares too have gained on increasing demand for semiconductor products. 
"Other companies, which had seen impressive gain in stock values in Q2 2023 include, Meta (33.8%), Oracle (28.9%), and Amazon (26.4%). They have recorded overall gains of 130%, 45%, and 56.1%, respectively, since the beginning of 2023. 
"Meta has gained the approval of investors, after the company's efficiency initiatives showed positive impact on the latest quarter results, with other factors being improved monetization from reels content and enhanced ad targeting. Tailwinds for its Infrastructure as a Service (IaaS) solutions propelled Oracle stocks, whereas Amazon shares were shored up by ad revenues, demand for cloud services, and expected positive impact of regional FC model.
"At the other extreme, Tencent, Qualcomm and Cisco witnessed their market value eroding during Q2 2023. Tencent, which saw its market value recovering in Q1 2023, slipped back to Q4 2022 level by the end of Q2 2023, impacted by a slowdown in Chinese economy, heavy sell-off by Prosus, one of its major stakeholders, and fear among investor community about potential sanctions that restrict exporting of select chips into China. Weak demand for smartphones and tablets impacted Qualcomm's top-line performance in recent quarters, impacting its market value." 
Benher concludes: "Looking ahead, tech companies offering hardware and software solutions for AI tools and cloud-based solutions are likely to witness market rally for their stocks. Chinese tech companies may experience another quarter of strain under US sanctions, as well as stagnation in local economy."
*Technology companies include software and hardware developers, IT service providers (including internet-based service providers), and manufacturers of electronics, including semiconductors, mobile devices, etc. Companies generating majority of business from these product/services offerings have been considered under the scope. GlobalData ranks the Top 25 companies based on MCap performance."